October 10, 2022: 6D Technologies is proud to announce that it is increasing its footprint by opening another office location in Ahmedabad, India. The office is located at a prime location in the city and is aimed to signify 6D's continued global growth and development.


On completing 20 years in the industry with our rapidly increasing team we decided to expand our horizon to our business growth strategy. As we invite professionals to join our rapidly growing organization, we also recognize that building the right ecosystem that balances our growth strategy with our hybrid work model is a must do. We are further expanding to all key tech cities in India to extract diverse talent from Fortune 500 companies, so we can cater to our clientele in the best way possible.


Abhilash Sadanandan, CEO, 6D Technologies, expresses his contentment, "This move is a testament to the growth which coincides with our 20years of Industry presence. This expansion will continue to support growth in terms of Marketing, Sales, and Product Development to improve our organic growth and provide excellent client support. We intend to continue adding the talent as well as build the team that will help strengthen our business for further growth going forward."

With our global presence in 12 cities, Ahmedabad is our newest addition to the list with a modern office space with all amenities, creates a showcase to future hires.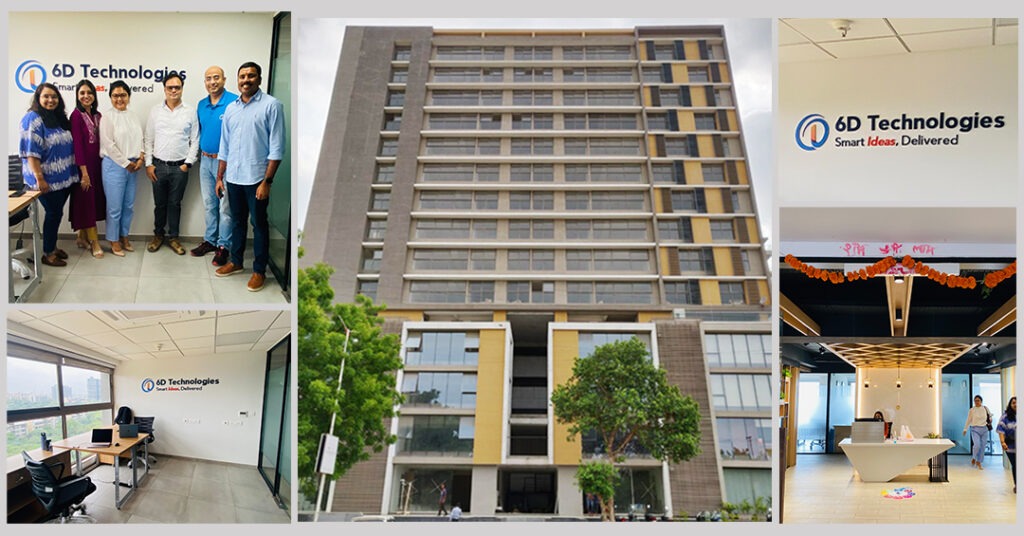 Ahmedabad Office Location:
6D Technologies
A8, 11th Floor, Bsquare Coworking space, Colonnade-2
Rajpath Club Road, Off, S.G Road
Ahmedabad, Gujarat 380054, India


About 6D Technologies
6D Technologies is a leading Telecom solutions provider offering its services in 80+ countries across 6 continents to several Tier-1 Telecom Service Providers, Equipment Manufacturers and Enterprises. 6d's continuous focus on R&D puts us in a unique position to enable services of superior user-experience and enhanced revenue growth. Our standout solutions include Integrated BSS Platform, Multi-channel Campaign Management, Cloud-based SDP, Internet of Things, Digital Portal Platform, Mobile Financial Solutions and more.