Reinventing the Telco Landscape with IoT and M2M
Reinventing the Telco Landscape with IoT and M2M
The internet is one of the most transformative technologies created. From connecting smart home applications through your phone to self-driving smart cars, devices through connectivity management in the telecom industry have gotten smarter, more efficient, and critical to success. Through high-speed networks like 5G and high reliability, IoT devices have become more sensitive and intelligent to make operations frugal for companies.
This technology is designed to reduce the workload on organizations along with making devices smarter by establishing communication channels between them. The M2M market is growing exponentially. IoT has helped foster connections with other businesses and customers. The digital transformation bought by this technology is accelerating operations through predictive analysis based on past trends.
According to IoT analytics, 545 IoT projects are cost driven. Recent times have resulted in the advancement of this technology. In 2022, the market for the Internet of Things is expected to grow by 18% making 14.4 billion active connections. From US $ 31.2 Billion in 2021 and is projected to grow at a compound annual growth rate of 25.2% reaching the US $ 376.3 Billion by 2032 from US $39.7 Billion in 2022.
The connectivity management platform allows users to analyze, sort, and simply manage huge sets of data collected through IoT devices. CMP that performs according to the standard should be able to record performance and scrutinize patterns and complications. Integrating both IoT and CMP provides security measures and firewalls that reduce the overall risk.
Empowering Businesses for Tomorrow with M2M Connections and Device Management
One of the most effective ways of utilizing M2M Connection management is through connecting different devices to a telecom provider that uses IoT to enhance its processes. Telecom Customer Portal Management has enabled the collection of large sums of data through high-powered technology like 5G. The top-rank Service providers are creating new value-added services with stronger networks, state of art data modules, and faster data transfers. Businesses are looking to make all their processes smarter through the application of the Connectivity Management Platform.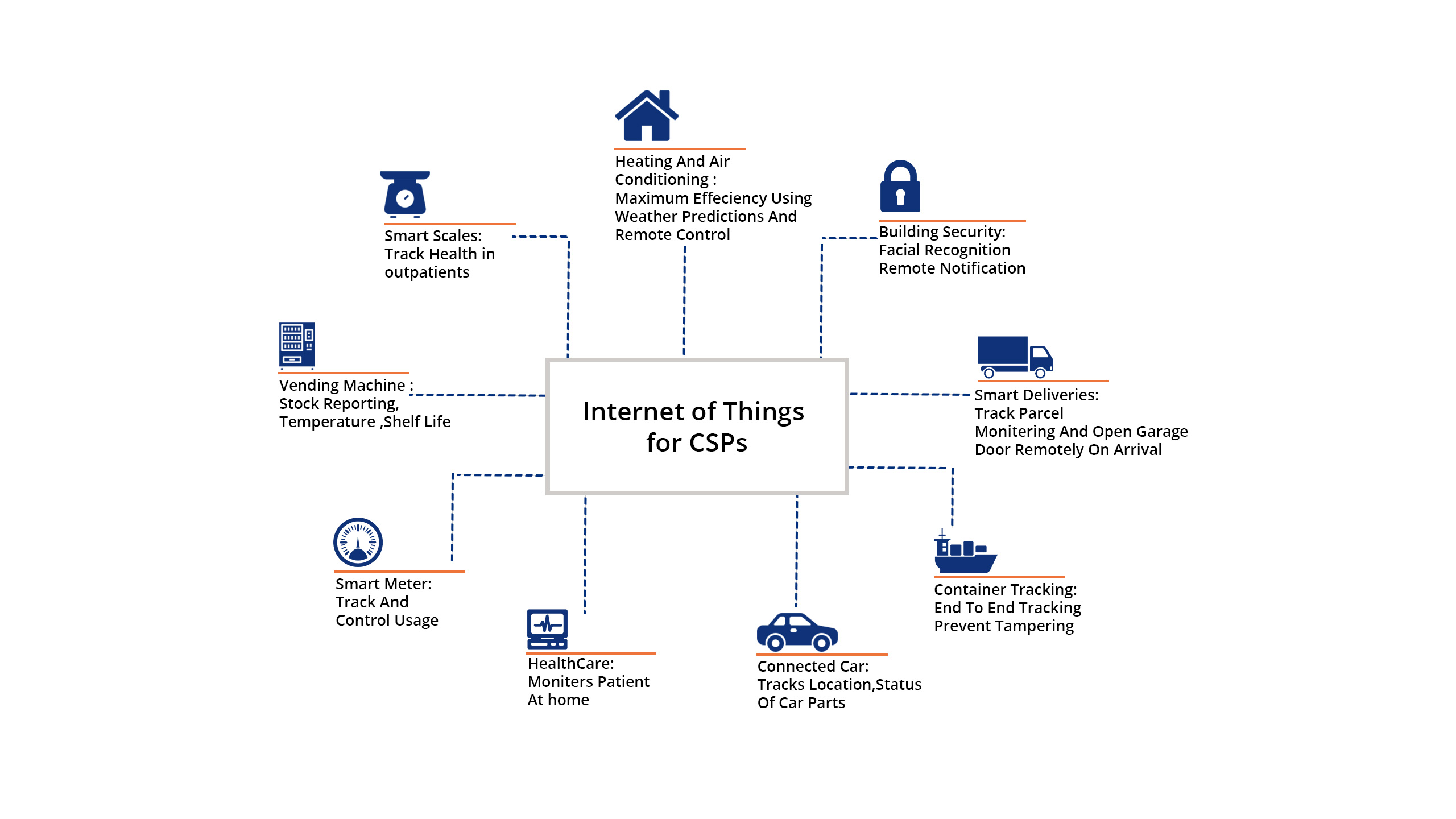 Today, achieving basic connectivity isn't an issue. It has become a need of the hour to establish a self-sustaining IoT ecosystem through faster networks. CSPs are working towards finding IoT Solutions for Telecom with their current network architecture. This allows companies to adapt to a range of different devices and applications to establish seamless communication channels. With the increase in functionality, this technology has remodeled the core to offer upgraded USPs for companies.
Automation isn't slowing down anytime soon. IoT solutions have the potential to generate $4-11 trillion in economic value by 2025. With IoT, around 83% of industries have improved their efficiency.
The Tomorrow of IoT is Today!
The fast-growing mechanization has helped create many touch points for devices from just a handful a few years ago. Bringing together Artificial intelligence and the Internet of Things to build a smooth and customized experience for users has opened a world of opportunities for service providers. M2M connections are now more effectively supported through smoother operating systems that allow high fulfillment and attestation. A huge leap of transformation has occurred through platforms that help guardian businesses from unforeseen threats and competition. The M2M market is growing significantly every year. With a high-powered network like 5G and an increase in devices, the technology is expected to grow by over 3x to 25.44 billion total IoT devices by 2030.
Is the Future Today ?
IoT Telecom Solutions have become an essential part of every industry. Integrating this technology has transformed business processes. Over the years IoT has taken over the way businesses operate in the connected world. It has created an irreplaceable utility that enables easy, smarter, and faster decision-making.
Off-the-shelf software has played a key role for organizations in adapting and keeping up in the dynamic environment. 6D has enabled many companies to equip
themselves with the right technology to define and create trends.
Infinity, powered by 6D Technologies, is a complete IoT / M2M Connectivity Management Platform that allows users to seamlessly implement IoT solutions. The service enables businesses to optimize telco cost, integrate with existing systems, create global M2M streams, and provide centralized cloud-based solutions.
From enabling processes to be smoother to simplifying advanced operations, it is only a matter of time till this exceptional technology changes the way we work. With constant innovation, IoT has been able to provide solutions and initiatives in the digital environment. IoT has helped see change as an opportunity and will continue to do so through CMP.