Regardless of the stage of business, a CSP might be in, innovation is the start of digital transformation through the product catalog. To keep up with the digital transformation needs today, CSPs have to become digitally equipped with sustainable products and services. Promoting, rolling out, and after-sale services are now taken up a notch with Unified Product Catalog like a unified BSS platform.
Launch and sell solutions become an integral part of their core systems with many third-party solutions to stay ahead of the market curve. Bringing together all services under one roof becomes essential to create a sellable portfolio for CSPs. From Billing and Charging services, data management, and more, a product catalog is important to gain visibility and control across your inventory. 
Improving efficiency in operation, and end-to-end digitalization through Unified Product Catalog is bringing in the best of automation to CSPs. Apart from just streamlining operations, it helps create an entire ecosystem of digital services in the existing architecture. The increase in the number of CSPs in the last few decades has transformed into bundling a portfolio of products together to remain competitive.
According to Markets and Markets, the digital transformation market size is projected to grow at a compound annual growth rate of 19.1%, from $521.5 billion in 2021 to $127.5 billion in 2026.
Operators have invested heavily in areas such as BSS platforms and invested in services that allow them to bring together their services leading to better collaboration among their vertices. Unified Product Catalog (UPC) is a multi-channel catalog management, handling B2B and B2C network services easily and flexibly. It helps enhance not just configurations but also manage BSS more dynamically.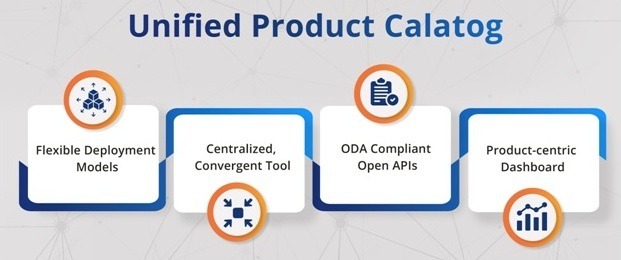 3 Ways CSPs can Nail Unified Product Catalog to Drive Revenue:
A holistic view of the products becomes critical for CSPs to deliver and create product data easier. Measurable long-term management of the solution allows companies to modify, migrate and promote their solutions smoothly and efficiently. A unified BSS platform enables companies to introduce products more seamlessly, defining their place in dynamic market situations.
1. Centralized Confluent Tools:
A centralized solution that has low latency can tap into many previously unexplored CSP's resources. With the Unified Product Catalog, CSPs can now modernize their systems with smarter, more intelligent tools to deliver better and customized services and offerings. In addition to Network Slicing, centralized modules help CSPs build an agile package accessible anytime, anywhere through any network. Customized services can be extended to their B2B and B2X partners horizontally and vertically across all channels.
2. Adaptable Framework:
Deploying a Unified Product Catalog within the Unified BSS solution can skyrocket CSPs growth, especially when it comes to the need to display flexible solutions with 5G capabilities by leveraging cloud solutions. With DevOps and CI/CD, unified management will allow businesses to inherit speed, expanse, and multi-zoned and agile features to deliver ease among their vendors and channel partners. Irrespective of the number of services, through a product catalog CSPs can now define their portfolios while still maintaining flexibility which further results in efficiency.
3. Collaboration Synergy:
Collaboration is the golden egg of Unified BSS. A unified product catalog captures data-driven opportunities from multiple sources to further recommend solutions through prescriptive and predictive analysis. Developing an environment of discussion and partnership can empower CSPs. With the current 5G technology taking over, data-driven opportunities are waiting to be embraced while making lesser errors through a well-organized system.
Why CSPs Implement Unified BSS Catalog to Begin Their Digital Journey?
CSPs dealing with multi-channel delivery can benefit from Unified BSS Catalog by extending their solutions to their partners, allowing a cohesive environment for the existing services and a well-rounded management system. A well-defined Product catalog can effectively manage lifecycle processes and provide powerful insights to innovate to expand operations continuously. Having a simplified User Interface also builds stronger connections with its lines of commands.
The unique aspect of a product catalog in collaboration with BSS platform allows CSPs to explore previously untapped features with cutting-edge experiences. Having one shop stop for all services will allow CSPs to ease all their operations and reduce the overall complications that can arise from individual processing of the bundles. This can help companies evaluate their offerings and analyze deeper insights.
Automating the management of products by toggling them into B2B and B2C products can provide immeasurable benefits to the organization. This further creates a stronger core workflow that controls and traits multiple areas.
Breaking Down Why Unified Product is a Must Have
In this fast-moving market, CSPs want to deliver quickly and without any hassles. Implementing Unified Product Catalog allows telecom operators to bundle up their products to offer and promote easy delivery. Familiarizing bundles can also shorten the buying cycle, therefore, allowing customers to install their products much quicker increasing the overall revenue by reducing the time. This also provides B2B customers with a more personalized experience almost giving them a B2C feel.
With Unified Product Catalog, CSPs can now streamline their sales and after-sale services to ease and streamline their processes. This also ensures that customers are given the best experience. UPC allows operators to personalize their sales and maintain a sense of identity with their catalogs which can create a long-lasting impression. It ensures that efforts that are put into pre-sale marketing and promotions are also uniform across channels. Many CSPs are now moving quickly towards adapting BSS Product Catalog to leverage the microservices architecture. This cloud-native solution allows CSPs to be more agile and scalable with their operations.
With UPC in full deployment, end-to-end management is completely automated to simplify complex networks. This creates a one-touch provision for CSPs allowing them to replace, redesign and re-engineer their customer-facing solutions. This creates an uncomplicated approach for easier management to deliver B2B and B2C solutions. A unified product catalog reduces time and operating costs and eases access through a straightforward approach.
Unified Product Catalog is the Key to Telco Transformation
Looking at the future of digitization in the telecom Industry, the Unified BSS Product Catalog is beginning to shape the industry to define product-centric solutions. This creates a systematic system for CSPs to define solutions that can optimize operations. Creating smart touch points for various partners for telcos enables sustainable and faster processing for easier monetization. Implementing Unified Product Catalog plays a central role for CSPs to identify key aspects to integrate all their offerings. 6D Technologies' Canvas provides CSPs with the right tools for Digital Transformation. Canvas brings together an AI Interaction with advanced experience which is an all-in-one turnkey transformation platform.