6DTechnologies
On February 27, 2023
Cellcard Collaborates with 6D Technologies for Digital Transformation
Barcelona, February 2023 – Exploring the synergy of collaboration in 2023, 6D Technologies is thrilled to announce its alliance with Cellcard. Bringing their innovation together, 6D is all set to provide Cellcard with seamless solutions to integrate into its daily operations. Our disruptive solutions and Cellcard's dominance in Cambodia will create an ecosystem of powerful transformation in the coming years.


Simon Perkins, CEO of Cellcard says "Digital Transformation is critical to be adaptive and market ready. Our partnership with 6D Technologies supports our renewed focus on driving network performance and enhancing operations to provide for our customers' growing demands for new innovations, experiences and best quality service. We are delighted to be working with 6D Technologies on collaborative efforts to serve Cambodia's dynamic market."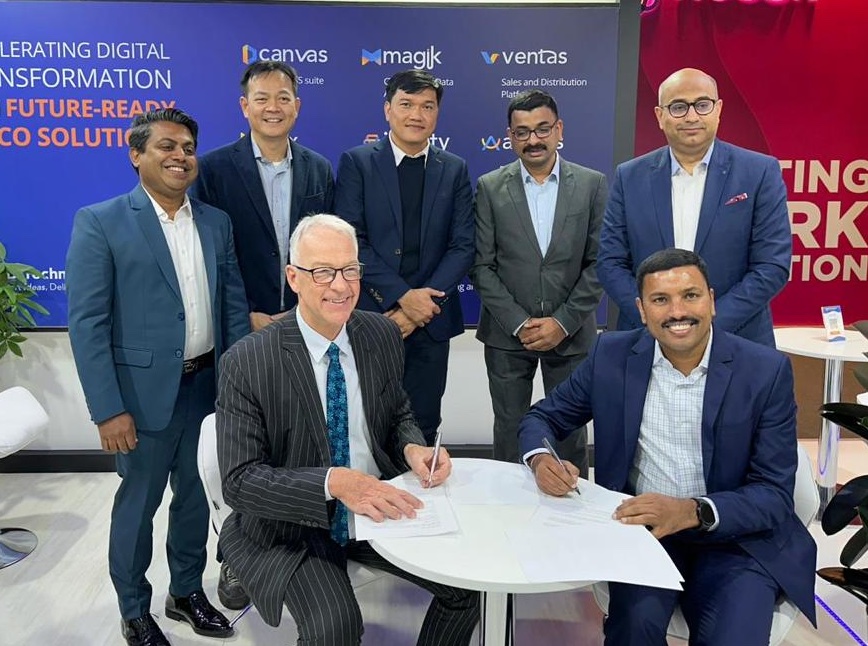 This partnership is a stage to exhibit 6D Technologies innovations with Cellcard's vision to provide its users with the highest level of telecommunication services. Deploying agile and contemporary solutions will further create a boost of efficiency in network operations by accelerating growth throughout the entire business. Demonstrating strength in partnership, conglomerating with the market leader of CSPs in Cambodia, we are set to tone the future of telecom.


Abhilash Sadanandan, CEO of 6D Technologies, says "We are adrenalized to be collaborating with one of Cambodia's leading Telco, Cellcard, in providing them with the latest technologies to transform their operations. This sets a precedent for all the partnerships in the coming years by delivering a transformative future, today."


6D's Canvas, a complete Digital BSS system in the network architecture will create support for a large scale of customers by meeting their operative needs and capturing market opportunities. Elevating its existing systems, Cellcard will deploy a unified Product Catalog, Customer Relationship Management Systems, Case Management Systems, Sales Lead Management, Mediation, Billing and Invoicing Systems, COM, SOM, PRM, Number Management, API Gateway, Reporting, Notification Engine, Asset Resource Manager, and PoS.


About Cellcard:
Launched in 1997, Cellcard is Cambodia's longest-serving and only 100% Cambodian-owned operator, reputed for its long history of first-to-market innovations, outstanding customer service and the fastest, most reliable mobile network. Considered as one of the biggest telco companies in Cambodia, Cellcard services over four million customers with nationwide coverage and an expansive dealer and distribution network.
With a vision towards providing connectivity for all and enhancing the way customers live, work and play, Cellcard's portfolio continues to expand to accommodate and build the esports and gaming community, provide digital entertainment services to address the need for real-time and on-demand content, and offer innovative and insightful enterprise solutions to support businesses.
Cellcard stands as the most awarded operator in Cambodia with more than forty global and regional accolades.
About 6D Technologies:
6D Technology is a leading provider of telecom solutions to CSPs Globally in over 80 countries. With a range of flagship solutions in the Teleco space, 6D Technologies is reinventing processes for telcos that sets them apart from the market. Our strength arises from aligning customers as our base by innovating experiences through sustainable solutions. 6D Technologies is the buttress for CSPs to create a comprehensive model for all things Telecom.